The Society - Multi-Cuisine Restaurant in Chennai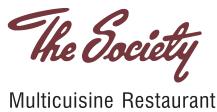 Renowned for its supreme hospitality, Hotel Ambassador Pallava, Chennai brings to you The Society multi-cuisine fine dine restaurant in Egmore, Chennai that will overwhelm your culinary senses with its profligate menu and stylish ambience.

This one of a kind fine dining restaurant in Chennai Egmore, offers a wide selection of dishes prepared authentically with the freshest ingredients. Boasting modern and elegant interiors, this fine dining restaurant is perfect for a relaxing dinner complemented by an extensive collection of new and old wines and liquors.

Celebrate a special occasion or intimate evening at the Ambassador Pallava Hotel in Chennai as our experienced staff handle your celebrations with the utmost care and an incomparable service.

Our restaurant is open from
7:00 am to 10:00 am for Breakfast
12:30 pm to 3:30 pm for Lunch
7:00 pm to 11:00 pm for Dinner