The Society - Multi-Cuisine Restaurant In Egmore, Chennai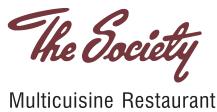 Renowned for its supreme hospitality, Hotel Ambassador Pallava, Chennai brings to you The Society - the in-house multi-cuisine restaurant. This fine-dining restaurant in Egmore, Chennai will overwhelm your culinary senses with its elaborate menu and stylish ambience.

This one of a kind restaurant in Egmore, Chennai offers a wide selection of dishes, each prepared authentically with the freshest ingredients. Boasting of modern and elegant interiors, this fine dining restaurant is perfect for a relaxing dinner complemented by an extensive collection of new and old wines and liquors.

Celebrate a special occasion or intimate evening at the Hotel Ambassador Pallava - Hotel on Montieth Road as our experienced staff handles your celebrations with the utmost care and incomparable service.

Our restaurant is open from
7:00 am to 10:00 am for Breakfast
12:30 pm to 3:30 pm for Lunch
7:00 pm to 11:00 pm for Dinner